At Savoy, we know that the team taking care of your needs day in and day out is just as important as the amenities within your new home. We have hand selected an all-star cast to ensure you feel not just comfortable but happy in your new home. Meet our team of all stars below. If you haven't met them all yet, stop by the office and introduce yourself. They love meeting awesome Savoy residents.
Meet Roger, our Community Manager!
Roger has called the Queen City home for almost 7 years, 6 of which he has spent providing the best housing experience to the Charlotte Community! What does he love the most about his career? Creating that sense of community that makes a place a home for so many.
Some of his favorite things include:
- DC Comics (Batman is the #GOAT)
- Xbox
- Being a part of the @stonewall_sports_charlotte community
And a fun fact about Roger; He is a long distance runner having completed a full marathon, and several Charlotte road races, his favorite being the Elizabeth 8k in March!
Meet Caity, our Assistant Community Manager!
Caity hails from the Garden state of NJ and has called the QC home for over 4 years! She's been rocking it in property management for two years and is loving every minute. What she enjoys most? Meeting new people and finding them the perfect home! Some of her favorites include:
- Reading a good book
- Hiking
Fun fact about Caity; She knows how to write calligraphy and loves it!
Meet Brandie, our Concierge Director!
If you've stopped by our office lately then you're definitely familiar with this smile! Meet Brandie our Concierge Director at Savoy! Born and raised in Mooresville, NC Brandie is no stranger to the Greater Charlotte area! With an education in Hospitality Management from East Carolina University, Brandie is ready to make your experience truly exceptional. She enjoys getting to know each and every resident and creating a concierge experience packed with services to make day-to-day metropolitan living a breeze. Her favorite things to do in her downtime include: - International Travel
- Paddle Boarding
- Photography
Fun fact about Brandie; She's a huge animal lover and is Dog Mom to a Golden Retriever!
Meet Shane, our Service Manager!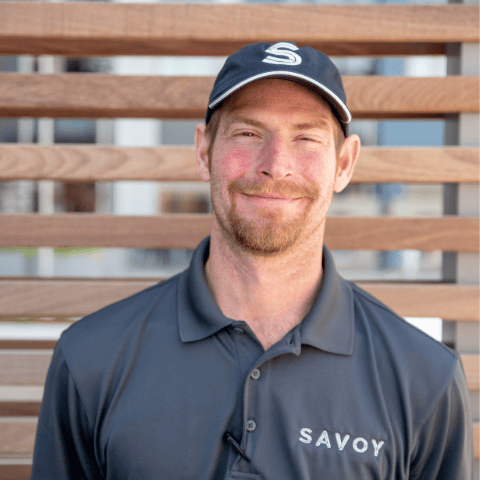 We saved the best for last! Shane is our fearless service manager here at Savoy. You will find him all around the property helping install things, getting new spaces ready for our residents and helping fix any of your maintenance requests. Shane is from Charlotte. Yes we have two unicorns here at Savoy. It just makes us that much more special. Shane has been in property management for almost 5 years and loves it. He enjoys experiencing and doing different things everyday and the ability to really get to know people. He also loves the family atmosphere the team creates. Some of his favorites include:
- A good steak (You'll probably see him at the green egg cooking up a steak)
- Southern Food
- Brown Whiskey and Porter/Stout Beers
Fun fact about Shane; He looks a lot younger than he is! Try and guess his age, we bet you won't get it in the first try.